Northern Pacific & Stampede Railway in N Scale

Our second layout tour this month is Mike McGee's freelanced Northern Pacific & Stampede Pass, also in N scale. The layout models Lester, Washington at Stampede Pass in the Cascade Mountains. It is based on the Northern Pacific in the summer of 1969. In addition to the town of Lester, it includes lovely forested scenes and freelanced towns up in the mountains. The NP&S hauls a variety of freight between Cle Elum in the mountains to the east and the city of Auburn in the west (both are represented in staging), but the main industries on the layout are logging related. Our NP&S feature includes video, an article, and photos. The DVD will include cab ride video of both of this month's layouts.
Want to read the current free magazine, this issue link is valid for the March Free Edition until March 20th 2018. click here
For the full Premium Edition or DVD for this month please go here. click here
The DVD has 87 minutes of video for this issue and you can save 50% by subscribing to our DVD subscriptions.
March 2018 Magazine on DVD
For those who would like to view the magazine on their televisions, you can now purchase the magazine on DVD. The DVD will contain the entire magazine with a video of both layouts that includes photos and video with a narration of the articles.
DVD orders will processed and ship out within 10 days of ordering. All US orders include free shipping. International orders will be subject to shipping costs. Our DVDs are region free and are in NTSC format, PAL is available upon request for international orders.
DVD 2 Disc Set $29.99 USD
Retail $32.99 USD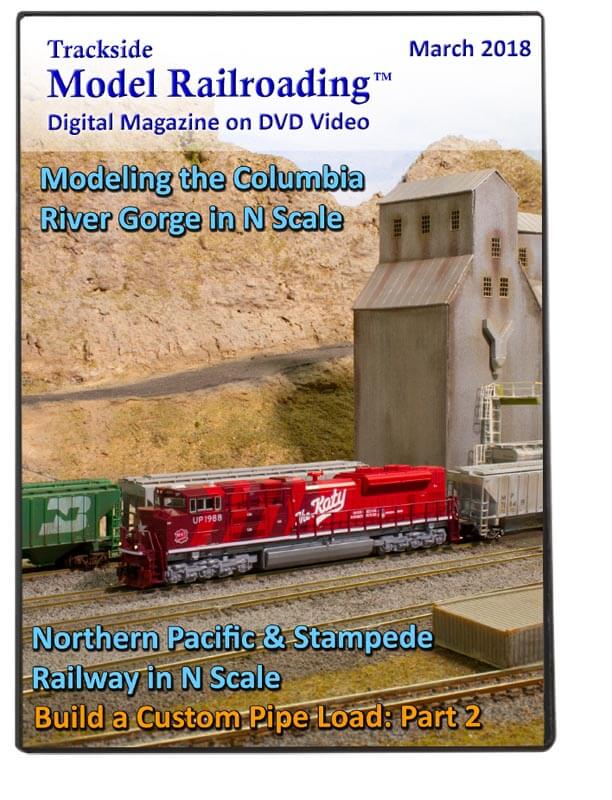 Build a Custom Pipe Load: Part 2
Columbia River Gorge 360 View