Trackside Model Railroading™ DVD & Magazine

Customer Login
Trackside Model Railroading is the magazine for model railroad enthusiasts who want an in-depth view of layouts. We cover two layouts each month, including all fine scales. Our railfanning style includes video of the trains running on the layouts as well as an article and many photographs of each layout we share.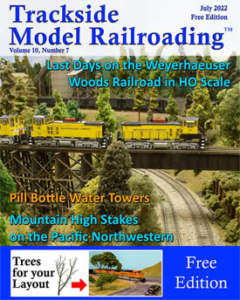 Current Free Edition: Click Here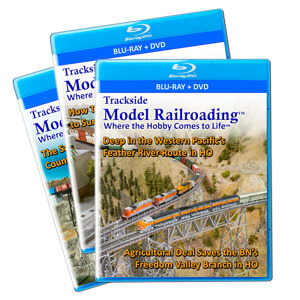 We offer some of the layouts we feature on Blu-ray & DVD. The videos are usually 80-120 minutes and have much more video of the layouts and often bonus features that are not in the magazine.
Trackside Model Railroading's Current Issue
Layouts featured in this month's magazine:
Evergreen Railroad Modelers' HO Scale Club Layout
Come tour the Evergreen Railroad Modelers' beautifully-scenicked Pacific Northwestern layout. You'll see many different railroads at work with both steam and diesel motive power. This large freelanced layout has interesting mainline running as well as a variety of industries for operations. You'll enjoy seeing many full-page photos of the layout. The feature includes an article about the club and the layout and a video of the trains at work.
Tribute to the Montana Rail Link
Explore the Montana Rail Link, a regional railroad operating in Montana on a long-term lease agreement with the BNSF. The BNSF will be taking over the line once again, as the lease has been terminated early. We share some interesting MRL facts and photos of the railroad at work.
Trees from Sagebrush Armatures
This project shows a few methods of creating convincing trees for your model railroad using sagebrush armatures.

Tour layouts in depth each month with Trackside.
Sign up for free https://www.tracksidemodelrailroading.com/magazine/signup/