Trackside Model Railroading™ DVD & Magazine

Customer Login
Trackside Model Railroading is the magazine for model railroad enthusiasts who want an in-depth view of layouts. We cover two layouts each month, including all fine scales. Our railfanning style includes video of the trains running on the layouts as well as an article and many photographs of each layout we share.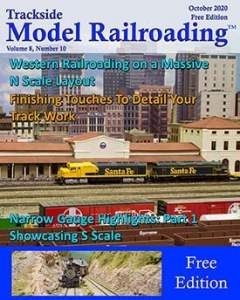 Current Free Edition: Click Here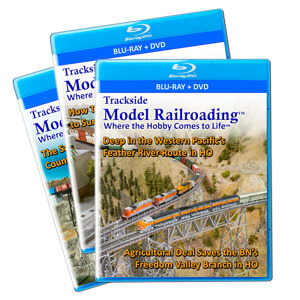 We now offer a subscription to our monthly DVDs, which feature the same layouts we share in the magazine each month but with more content. The videos are usually 80-120 minutes and have much more video of the layouts and often bonus features and stories that are not in the magazine.
Trackside Model Railroading's Current Issue
Layouts featured in this month's magazine:
N Scale Bob's World Railroad
Tour Bob Sanchez's huge N scale pike, featuring the Southern Pacific's main line in a freelanced California and Oregon. The Burlington Northern, Santa Fe, Western Pacific, Milwaukee Road, and Union Pacific also operate on the layout. You'll see some creative planning to connect several layout levels and some in-progress areas as Bob and his team work to build this impressive railroad.
Narrow Gauge Highlights
We share some best-of narrow gauge in S scale this month, showcasing the work of three modelers: Sam Furukawa, Bill Scheef, and Dave Woodrell. You'll see some photos and video from each layout and learn a little about them. These will be included on an upcoming tour DVD.
Finishing Touches to Detail Your Track Work
We share a project detailing trackage. With just a little effort, make your layout look a bit more like the real thing.

Tour layouts in depth each month with Trackside.
Sign up for free https://www.tracksidemodelrailroading.com/magazine/signup/