Trackside Model Railroading™ DVD & Magazine

Customer Login
Trackside Model Railroading is the magazine for model railroad enthusiasts who want an in-depth view of layouts. We cover two layouts each month, including all fine scales. Our railfanning style includes video of the trains running on the layouts as well as an article and many photographs of each layout we share.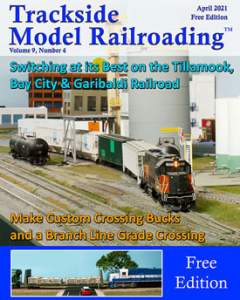 Current Free Edition: Click Here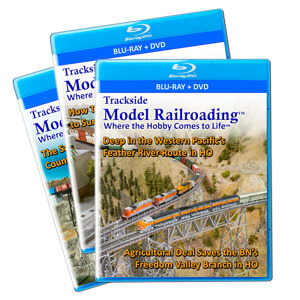 We now offer a subscription to our monthly DVDs, which feature the same layouts we share in the magazine each month but with more content. The videos are usually 80-120 minutes and have much more video of the layouts and often bonus features and stories that are not in the magazine.
Trackside Model Railroading's Current Issue
Layouts featured in this month's magazine:
Switching at its Best on the Tillamook, Bay City & Garibaldi Layout
We take an in-depth look at Jay Becker's HO scale layout, the Tillamook, Bay City & Garibaldi Railroad. You'll love Jay's 24x24 foot layout that is all about operations. The railroad is based in a freelanced version of Tillamook, Oregon from about 1995 to the present day. You'll get to see crews working the barge and many of the industries on the layout. Jay is currently in the process of rebuilding the large papermill. You'll get to see photos of it as it was before the change and photos of the new facilities that have taken its place. (He is now building a second layout just for the mill.) We share a video walkthrough with Jay sharing about some of the industries at the layout.
Build a Custom Crossing Buck and a Grade Crossing
We provide a PDF to print and build your own crossing bucks. In this project, we combine the scratch-built bucks with a road and a level grade crossing from Blair Line.

Tour layouts in depth each month with Trackside.
Sign up for free https://www.tracksidemodelrailroading.com/magazine/signup/