Trackside Model Railroading™ DVD & Magazine

Customer Login
Trackside Model Railroading is the magazine for model railroad enthusiasts who want an in-depth view of layouts. We cover two layouts each month, including all fine scales. Our railfanning style includes video of the trains running on the layouts as well as an article and many photographs of each layout we share.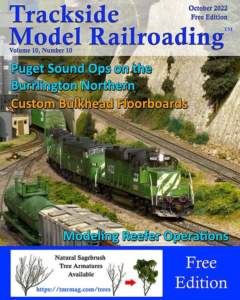 Current Free Edition: Click Here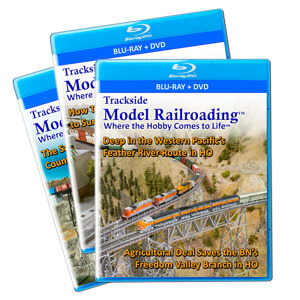 We offer some of the layouts we feature on Blu-ray & DVD. The videos are usually 80-120 minutes and have much more video of the layouts and often bonus features that are not in the magazine.
Trackside Model Railroading's Current Issue
Layouts featured in this month's magazine:
Railfanning the Santa Fe in 1992
Come join us as we interview Mike McGinley at his HO scale Southwestern Pacific and explore the Santa Fe at work as of 1992. This 18 x 22 foot pike is beautifully modeled and offers top-notch railfanning of the AT&SF working the American Southwest, including the mountains of the West and red rock landscapes in the desert as the line moves inland. You'll get to see some of Mike's new updates to the layout. The feature includes many full-page photos of piggyback, manifest, and autorack AT&SF trains as well as Amtrak's "Pepsi Can" locomotives and a Metrolink demonstration train.
Best of Narrow Gauge: Hangman Creek Lumber Company
Step back into the 1950s with us as we explore the Hangman Creek Lumber Company, an amazing O scale layout built by four modelers for the 2012 Narrow Gauge Convention in Seattle. This is a truly unique layout with impressively tall conifers and incredible detail.
Make Custom Rock Molds
Create your own unique rock molds with us in this month's project.

Tour layouts in depth each month with Trackside.
Sign up for free https://www.tracksidemodelrailroading.com/magazine/signup/