Trackside Model Railroading™ DVD & Magazine

Customer Login
Trackside Model Railroading is the magazine for model railroad enthusiasts who want an in-depth view of layouts. We cover two layouts each month, including all fine scales. Our railfanning style includes video of the trains running on the layouts as well as an article and many photographs of each layout we share.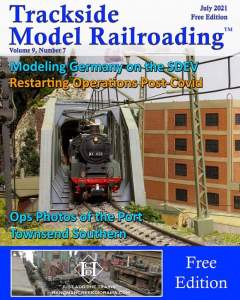 Current Free Edition: Click Here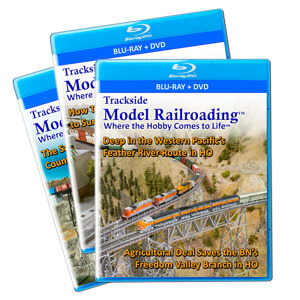 We now offer a subscription to our monthly DVDs, which feature the same layouts we share in the magazine each month but with more content. The videos are usually 80-120 minutes and have much more video of the layouts and often bonus features and stories that are not in the magazine.
Trackside Model Railroading's Current Issue
Layouts featured in this month's magazine:
AT&SF Serves the Oil Industry on the Texas Petro Line
Tour the HO scale Santa Fe - Texas Petro Line, a work of art built by Gordon Stockman that is based in the 1980s-90s. You'll learn how the freelanced layout fits into the prototypical railroad's history and you'll love Gordon's craftsmanship. The layout's signature scene is the impressive, custom-built 19-foot-long coal coking/oil refinery plant.
Everett & Monte Cristo Railway
Enjoy a look at Didrik Voss' Everett & Monte Cristo Railway, a unique, HO scale model of the mining short line that operated in the Cascades in the 1890s. You'll see some of Didrik's amazing scenery and scratch-built structures in this mini tour.
Build Custom Propane Tanks
Quickly create wooden propane tanks for your layout. This project is shown in HO scale; it can be completed in any scale with minor adjustments.

Tour layouts in depth each month with Trackside.
Sign up for free https://www.tracksidemodelrailroading.com/magazine/signup/