Trackside Model Railroading™ DVD & Magazine

Customer Login
Trackside Model Railroading is the magazine for model railroad enthusiasts who want an in-depth view of layouts. We cover two layouts each month, including all fine scales. Our railfanning style includes video of the trains running on the layouts as well as an article and many photographs of each layout we share.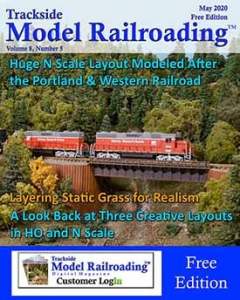 Current Free Edition: Click Here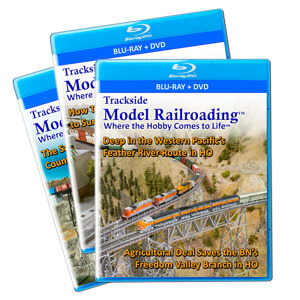 We now offer a subscription to our monthly DVDs, which feature the same layouts we share in the magazine each month but with more content. The videos are usually 80-120 minutes and have much more video of the layouts and often bonus features and stories that are not in the magazine.
Trackside Model Railroading's Current Issue
Layouts featured in this month's magazine:
MRL's Mullan Pass in HO Scale
Tour Kirk Thompson's Mullan Pass layout, an HO scale model of the Montana Rail Link's crossing of the Rocky Mountains. We have featured this layout before but share many new photographs of it. Kirk's operations mimic the MRL's handling of BNSF trains. You'll enjoy this unique layout and its impressive views of the pass, as well as switching in the city of Helena, Montana.
Modeled Waterfronts in HO and N Scale
We share photos of several layouts' ports and waterfronts to give you ideas for ways to incorporate them into your layout and improve operations. The images are from several layouts in both HO and N scale.
Make Snowbanks for Your Layout
Our project this month shows you how to make your own realistic-looking snowbanks. We share photos of each step. This project is simple to complete.

<!
--->
Tour layouts in depth each month with Trackside.
Sign up for free https://www.tracksidemodelrailroading.com/magazine/signup/