Trackside Model Railroading™ DVD & Magazine

Customer Login
Trackside Model Railroading is the magazine for model railroad enthusiasts who want an in-depth view of layouts. We cover two layouts each month, including all fine scales. Our railfanning style includes video of the trains running on the layouts as well as an article and many photographs of each layout we share.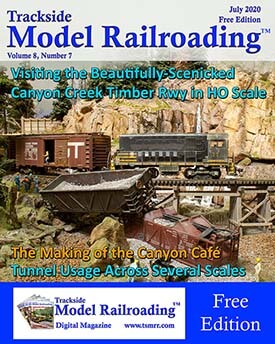 Current Free Edition: Click Here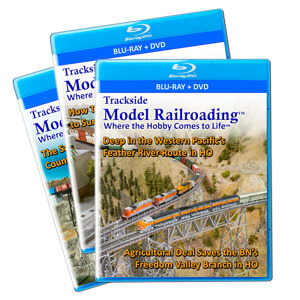 We now offer a subscription to our monthly DVDs, which feature the same layouts we share in the magazine each month but with more content. The videos are usually 80-120 minutes and have much more video of the layouts and often bonus features and stories that are not in the magazine.
Trackside Model Railroading's Current Issue
Layouts featured in this month's magazine:
Bitterroot Lines in HO Scale
Come tour Kirk Thompson's Bitterroot Lines, a freelanced HO scale bridge line based in the 1950s. You'll enjoy mostly passenger traffic from the Southern Pacific, Santa Fe, and Union Pacific crossing the mountains on this unique pike. The layout was inspired by the Canadian Pacific's Spiral Tunnels at Kicking Horse Pass, but Kirk's version of them is based in the U.S. The layout offers great railfanning views as the trains tackle the grade.
Details that Create a Story
We share some interesting scenes that have stood out over the years and how modeling your own creative scene or piece of history can add to a layout.
Create One-Way Loads for Realistic Operations
See how you can make your own one-way loads to add realism as you operate your layout. This project shows you how to build a wheel tractor-scraper one-way load, which can easily be applied to create loads for other machinery. The project is in HO scale.

<!
--->
Tour layouts in depth each month with Trackside.
Sign up for free https://www.tracksidemodelrailroading.com/magazine/signup/