Trackside Model Railroading™ DVD & Magazine

Customer Login
Trackside Model Railroading is the magazine for model railroad enthusiasts who want an in-depth view of layouts. We cover two layouts each month, including all fine scales. Our railfanning style includes video of the trains running on the layouts as well as an article and many photographs of each layout we share.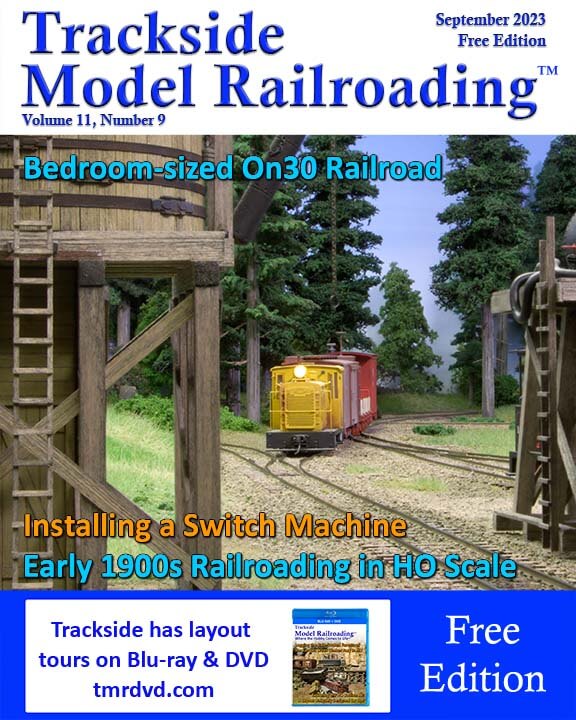 Current Free Edition: Click Here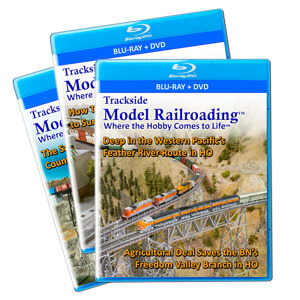 We offer some of the layouts we feature on Blu-ray & DVD. The videos are usually 80-120 minutes and have much more video of the layouts and often bonus features that are not in the magazine.
Trackside Model Railroading's Current Issue
Layouts featured in this month's magazine:
Bedroom-sized On30 Railroad
Come see what's possible with a larger scale in a small room. This layout by Kevin Miller was built for operations and features a variety of industries and great scenery. The freelanced Newaukum Valley Narrow Gauge Railroad is based in western Washington in the late 1950s. You'll love this unique layout!
Early 1900s Railroading in HO Scale
The Southern Pacific and the Sugar Pine Logging & Railway Company both work Chuck Heimerdinger's HO scale layout. He built the dual gauge layout in two separate rooms: the SP works the main room in a desert environment while the Sugar Pine runs a logging operation on the second layout. The layouts connect via a tunnel. The layout is based from 1915-30 and modelers who love steam will enjoy seeing his work.
Installing a Switch Machine
Step-by-step instructions to install a switch machine. This project is intended to assist newer modelers. The installation is shown with a Tortoise.

Tour layouts in depth each month with Trackside.
Sign up for free https://www.tracksidemodelrailroading.com/magazine/signup/