March 2018 Trackside Model Railroading Digital Magazine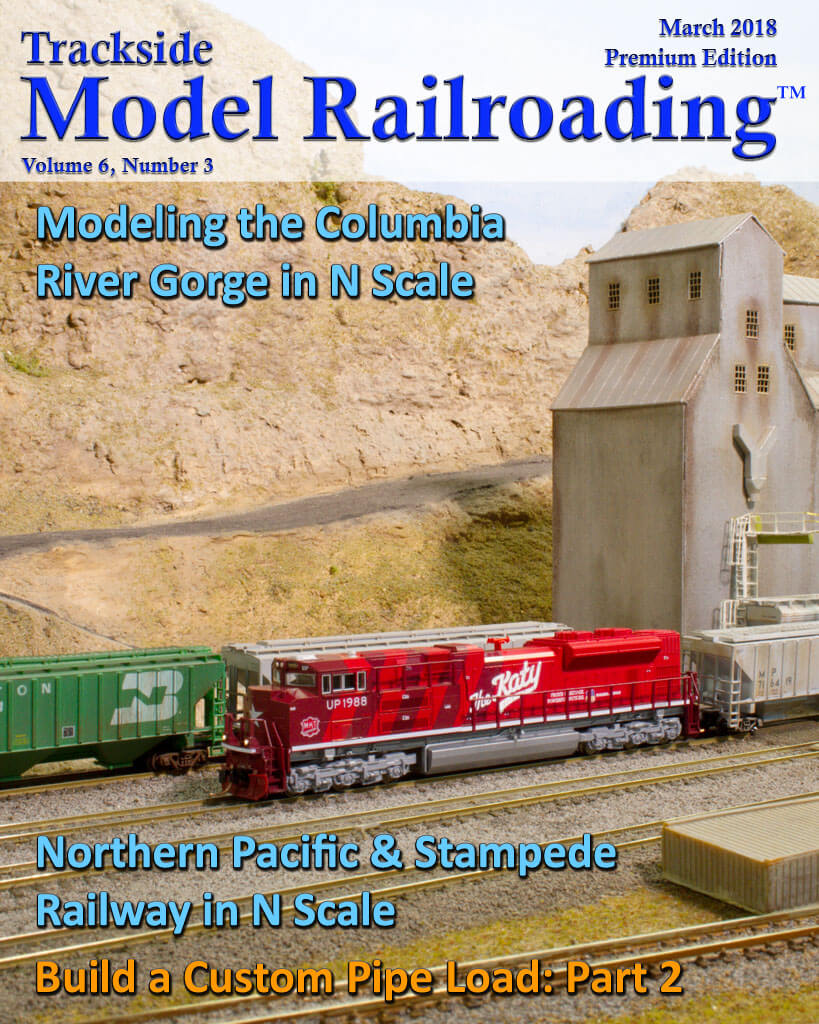 The two layout features this March are:
Columbia River Club
Modeling the Columbia River Gorge in N Scale
Mike McGee's
Northern Pacific & Stampede Railway in N Scale
No account, sign up here for our Free Edition and discounts.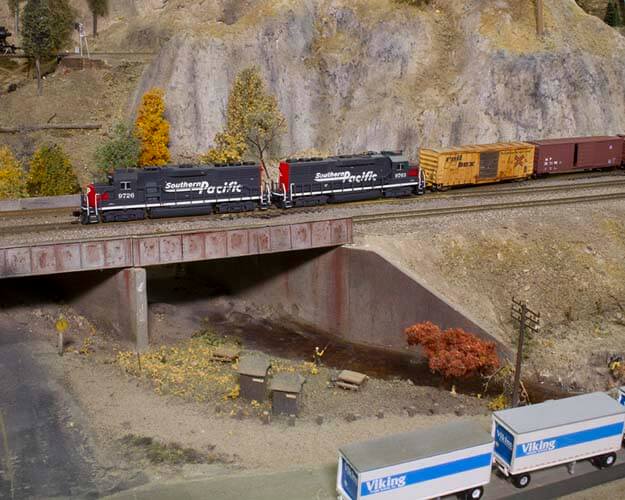 N Scale Club Layout

N Scale NP & Stampede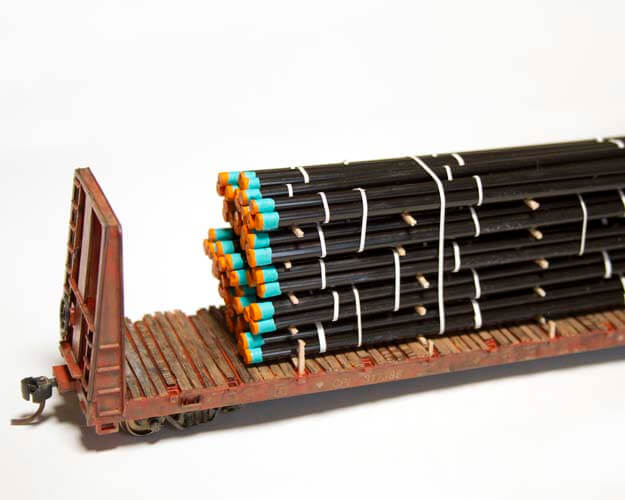 Natural Gas Load For a Bulkhead Flatcar
Layouts in the March 2018 Issue
Modeling the Columbia River Gorge in N Scale
Visit the Columbia River N Scale Club's layout modeling the Columbia River Gorge with us this month. The layout includes parts of the BNSF main line in Washington and the Union Pacific main line in Oregon and features beautiful scenes along the river. The NTRAK layout also includes industrial areas to make the club's regular operating sessions more interesting. The route through the Gorge travels from Biggs to Portland. The club generally operates modern trains, but at times they operate as far back as the 1960s. We include some of the predecessor railroads in our shoot (BN, SP, SP&S). This feature includes an article, photographs, and video of the layout. You can also visit the layout in person in Portland.
Northern Pacific & Stampede Railway in N Scale
Our second layout tour this month is Mike McGee's freelanced Northern Pacific & Stampede Pass, also in N scale. The layout models Lester, Washington at Stampede Pass in the Cascade Mountains. It is based on the Northern Pacific in the summer of 1969. In addition to the town of Lester, it includes lovely forested scenes and freelanced towns up in the mountains. The NP&S hauls a variety of freight between Cle Elum in the mountains to the east and the city of Auburn in the west (both are represented in staging), but the main industries on the layout are logging related. Our NP&S feature includes video, an article, and photos. The DVD will include cab ride video of both of this month's layouts.
Build a Custom Pipe Load: Part 2
This month we finish the custom pipe load we started building in last month's project. The pipe load is simple to make and easy enough for new modelers. It is also inexpensive to build.
N Scale Columbia River

N Scale Northern Pacific

Order the Blu-ray and DVD featuring these layouts in more depth.
For those who would like to see even more of these two layouts, check out the movie featuring the Columbia River N scale layout and the Northern Pacific & Stampede Pass. Blu-ray orders will be processed and shipped out within 10 days of ordering. All US orders include free shipping. International orders will be subject to shipping costs. Our Blu-ray & DVDs are region free and are in NTSC format.
Build a Custom Pipe Load: Part 2
Columbia River Club 360 View