Columbia River Gorge Model Railroad in N Scale

Visit the Columbia River N Scale Club's layout modeling the Columbia River Gorge with us this month. The layout includes parts of the BNSF main line in Washington and the Union Pacific main line in Oregon and features beautiful scenes along the river. The NTRAK layout also includes industrial areas to make the club's regular operating sessions more interesting. The route through the Gorge travels from Biggs to Portland. The club generally operates modern trains, but at times they operate as far back as the 1960s. We include some of the predecessor railroads in our shoot (BN, SP, SP&S). This feature includes an article, photographs, and video of the layout. You can also visit the layout in person in Portland.
Want to read the current free magazine, this issue link is valid for the March Free Edition until March 20th 2018. click here
For the full Premium Edition or DVD for this month please go here. click here
The DVD has 87 minutes of video for this issue and you can save 50% by subscribing to our DVD subscriptions.
March 2018 Magazine on DVD
For those who would like to view the magazine on their televisions, you can now purchase the magazine on DVD. The DVD will contain the entire magazine with a video of both layouts that includes photos and video with a narration of the articles.
DVD orders will processed and ship out within 10 days of ordering. All US orders include free shipping. International orders will be subject to shipping costs. Our DVDs are region free and are in NTSC format, PAL is available upon request for international orders.
DVD 2 Disc Set $29.99 USD
Retail $32.99 USD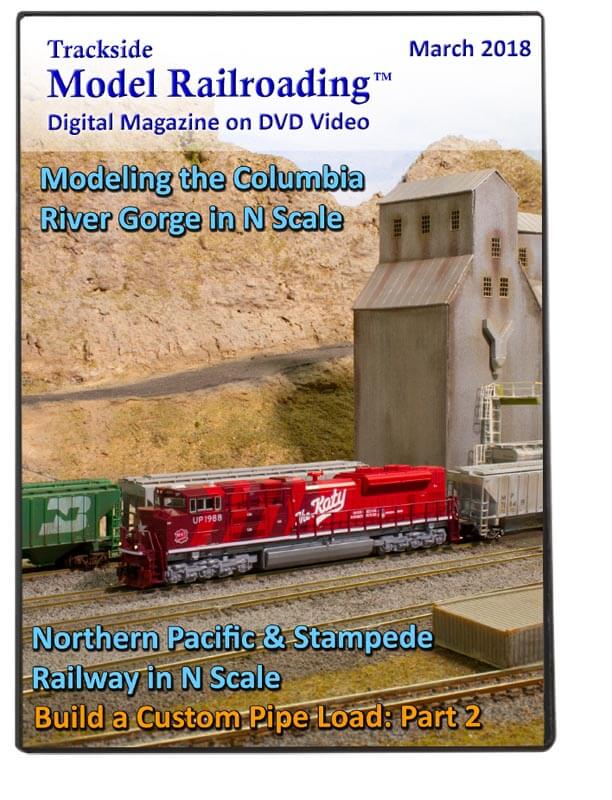 Build a Custom Pipe Load: Part 2
Columbia River Gorge 360 View