If you would like more content and would prefer to have the full version PDF and the included Premium Edition videos as a local download to your device, you can purchase this month's Premium Edition magazine here.
To view the current free magazine click here: Current Free Edition
Mike McGinley Interview Part 1 of 2 in HO Scale
In a walkthrough interview, Mike talks about his railroad and how he models various locations and time periods.
Mike McGinley Interview Part 2 of 2 in HO Scale
Watch some of the trains in action on the layout.
Mike also talks about the fun he's having with 2001 as well as his future yard changes and the newly added Rathole Yard.
Click the picture to purchase a downloadable copy of the Premium Edition PDF or subscribe to Trackside for 67% off the cover price for all the 2020 issues.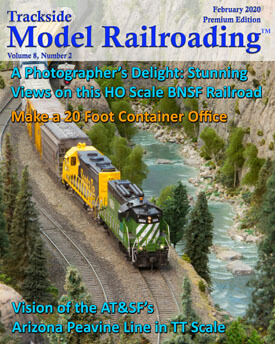 Subscribers get big discounts with the full downloadable version of the Premium Edition, along with downloadable bonus content that includes videos and 360VR gear when subscribing to all the 2020 issues.