Modeling the BN's Woodinville Sub in a Small Room in HO
See Brian Elchlepp's Burlington Northern branch line modeled after BN's Woodinville Subdivision in Washington State. The switching layout models the line from Snohomish to Redmond in a compact, scenic version of what was locally called the Eastside Beltline. Enjoy a walkthrough at the layout with Brian as he talks about the layout and the prototype. Modelers interested in how to effectively build a switching layout in a small space will appreciate Brian's work. You will also enjoy his creativity and realism on the Woodinville Sub. The layout is based in the mid-80s. A cab ride around the layout is included on the movie.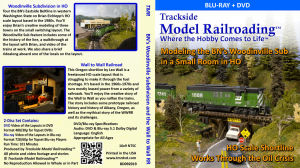 Click images to view our DVD/Blu-ray of this movie.
Rent or Download the BN Woodinville Sub Feature

Rent or Download the Feature: Modeling Burlington Northern's Woodinville Subdivision from Trackside Model Railroading on Vimeo.