November 2018 Issue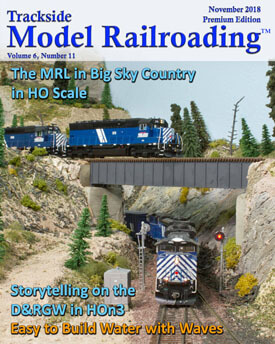 Digital Magazine Download $2.49
Credit Cards Accepted
Be sure you are logged in before making digital purchases to ensure that your account is updated correctly.
Blu-ray/DVD Video Set
November 2018 Magazine on Blu-ray and DVD

Order these layouts on Blu-ray and DVD
For those who would like to see even more of these two layouts, we make a Blu-ray and DVD each month.
The video features both the D&WM and the White Pine D&RGW, but with much more video than what you will see in the magazine. The still photos are also included, as well as an interview with Rodney and a creative story of a ride on one of the D&WM's locomotives.
Video orders will processed and shipped out within 10 days of ordering. All US orders include free shipping. International orders will be subject to shipping costs. Our DVDs are region free and are in NTSC format.