January 2018 Trackside Model Railroading Digital Magazine
The two layout features this January are:
Lee Bishop's
Stoney Creek Southern Railroad
Lewis-Clark Model Railroad Club's
Camas Prairie Railroad

On30 Scale

HO Scale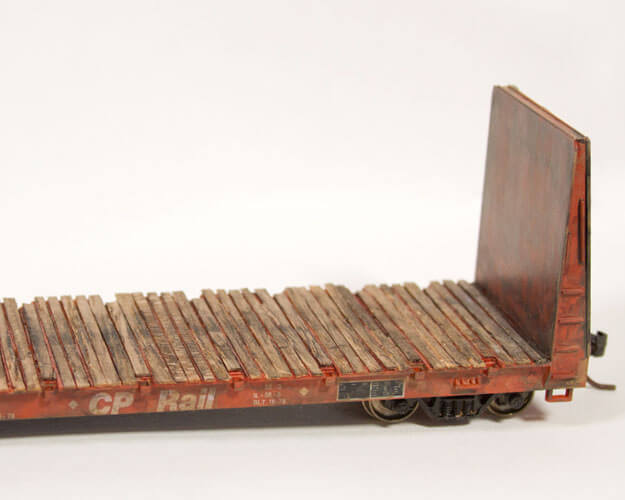 Upgrade and Weather a Bulkhead Flatcar
Layouts in the January 2018 Issue
Stoney Creek Southern Railroad in On30
Visit WWII-era northeastern Tennessee on Lee Bishop's Stoney Creek Southern Railroad. The freelanced layout is based on a mythical version of history and has ties to the area's history. It runs East Tennessee & Western North Carolina Railroad power, hauling commuters from Elizabethton to Buladeen and supplying various goods to the towns of Winner, Hunter, and Sadie. Lee is a history buff and enjoys mixing his love of history with his love of modeling, adding many historically appropriate details on the small narrow gauge layout. Lee runs 4-6-0 Baldwins on the layout, which is based in 1943. We share photographs and video of the layout along with an article detailing his pike. The Premium Edition of the magazine also includes 360 degree photos and video of the Stoney Creek Southern.
Camas Prairie Railroad in HO
The Camas Prairie Railroad operated in northern Idaho and was jointly owned by the Union Pacific and Northern Pacific Railroads. We feature a freelanced version of it this month built in HO scale by the Lewis-Clark Model Railroad Club of Lewiston, Idaho. The club is loosely based from the 1950s to the 1970s and runs a variety of steam and diesel power. Diesel fans will get to see a few newer locomotives that we ran during our visit, as the club is not strict about the era. The layout's hub is in Lewiston, Idaho, and the line runs east through Cottonwood and up into the Craig Mountains. This feature also includes photos, video, and an article and the Premium Edition includes 360 degrees images and video.
Upgrade and Weather a Bulkhead Flatcar
The project this month is upgrading and weathering a bulkhead flatcar. We add wooden "boards" over the plastic, molded boards on a flatcar and weather the car to make it worthy of showing off on any layout. Next month, we will add a custom pipe load on this same car, but it will look great loaded or unloaded. This is an easy project that any modeler should be able to complete.
On30 Stoney Creek Southern Railroad

HO Scale Camas Prairie Railroad

January 2018 Magazine on DVD
For those who would like to view the magazine on their televisions, you can now purchase the magazine on DVD. The DVD will contain the entire magazine with a video of both layouts that includes photos and video with a narration of the articles.
DVD orders will processed and ship out within 10 days of ordering. All US orders include free shipping. International orders will be subject to shipping costs. Our DVDs are region free and are in NTSC format, PAL is available upon request for international orders.
DVD 2 Disc Set $29.99 USD
Retail $32.99 USD
Upgrade and Weather a Bulkhead Flatcar
Stoney Creek Southern Railroad 360 View