October 2022 Trackside Model Railroading Digital Magazine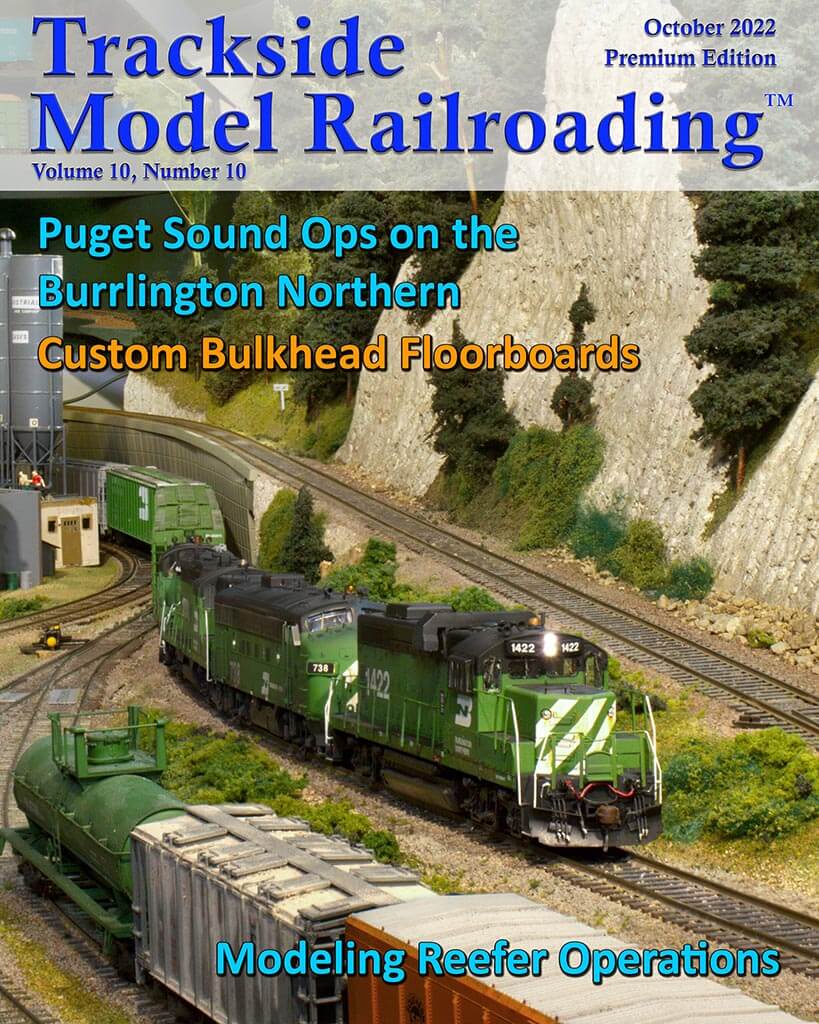 In this Month's Issue
Puget Sound Ops on the Burrlington Northern
Explore Burr Stewart's top-notch freelanced BN layout with Trackside Model Railroading. The layout is based in western Washington's Seattle area and up into the Cascades as of 1973. The Burrlington Northern is operations-focused, with several large yards, lots of industry for switching tasks, and mainline running on the fully-scenicked pike. Enjoy an informative interview with Burr at the layout talking about operations and layout design. This feature includes many photos of the layout and annual subscribers have access to see 360 degree images of the layout room. Burr also runs a few Union Pacific and Milwaukee Road trains on the layout; a few MILW trains are included in the feature.
Modeling Reefer Operations
Tour three HO scale layouts that model refrigeration industry ops and learn about some of the history of the major reefer fleets, particularly those owned by the railroads. This feature includes photos from the three layouts, which are Bill Messecar's Santa Fe Los Angeles Division 3rd District based in the 1950s, Jay Becker's modern Tillamook, Bay City and Garibaldi Railroad, and the Yakima Valley Railroaders Club's layout based from the 1970s-90s. You'll see some photos of each layout and a timeline of major reefer industry changes over the years. (This feature is a compliment to the September 2022 article on reefer industry history.)
Custom Bulkhead Floorboards
Customize a bulkhead flatcar by following the steps in this project, which is shown in HO but could be done in other scales.
Burr Stewart's HO scale layout
Bill Messecar's HO scale layout