October 2018 Issue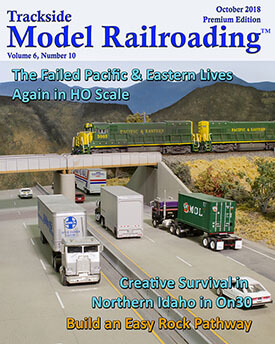 Digital Magazine Download $2.49
Credit Cards Accepted
Be sure you are logged in before making digital purchases to ensure that your account is updated correctly.
Blu-ray/DVD Video Set
Pacific & Eastern Railway and Ohadi Street Railway
Monthly Layout Tour on Blu-ray & DVD
For those who would like to see even more of these two layouts, we make a Blu-ray and DVD each month.
The Failed Pacific & Eastern Lives Again
The Rogue Valley Model Railroaders' 1980s layout featuring the former Pacific & Eastern of southern Oregon. The club models what the railroad might have been if its story had continued into the 1980s. The large layout is in HO scale and can be visited at the Medford Railroad Park in southern Oregon. We share photographs and video along with the story of the layout and an interview about the layout. We also share a video of a ride on a 7.5" gauge live steamer at the railroad park and an interview about its operations.
Creative Survival in Northern Idaho
Visit the whimsical, freelanced town of Ohadi and its two railroads: the Idaho, British Columbia and Northern Railway and the Ohadi Street Railway. On this 1950s layout, the residents of Ohadi have come up with a clever way to prosper and created a whole new industry to support the local businesses and the railroad. The layout is built by Richard Hutter in On30.
Our monthly Blu-ray/DVD sets feature layouts that we have shared in the magazine, but with much more video and special features.
Blu-ray and DVD 2 Disc Set $29.99 USD
Retail $32.99 USD