February 2018 Trackside Model Railroading Digital Magazine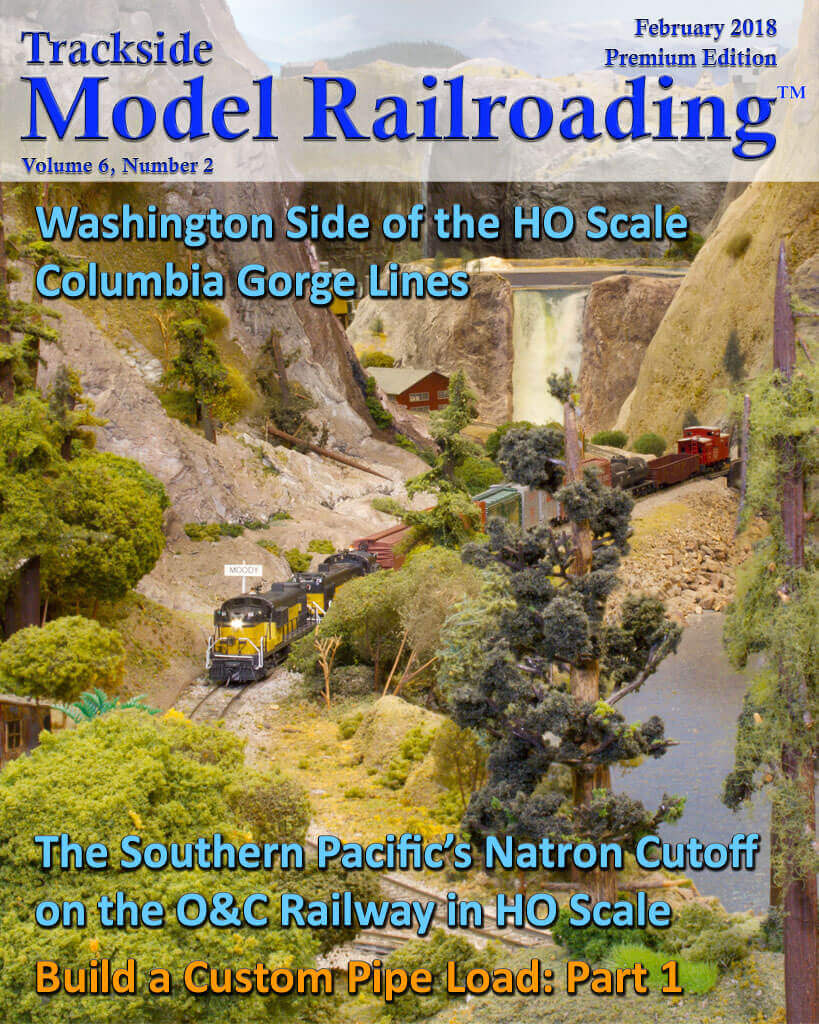 Layouts in the February 2018 Issue
Washington Side of the Columbia Gorge Lines in HO Scale
We toured the Oregon side of the Columbia Gorge Lines last April. This month, come see the Washington side of the 60x70 foot layout. In this feature, we focus on the Spokane, Portland & Seattle Railway in the 1950s and have included a creative ride-along story. The SP&S owned the main line on the WA side at that time. For those who enjoy more modern railroads, we include photographs of newer BNSF trains (which owns the main line today) as well as a mixture of other railroads: Northern Pacific, Union Pacific, Amtrak, and a little Southern Pacific and Cotton Belt power. The article includes the ride-along and some information about the club. For more information on the CGMRRC and photos and video or the Oregon side, see our April 2017 issue. (In the magazine, this month's video features the SP&S. The movie includes other railroads, too.) 360 degree video is included in the Premium Edition of the magazine.
The Southern Pacific's Natron Cutoff on the Oregon & California Railway in HO
Bill Baker's freelanced Oregon & California Railway models the Southern Pacific's Natron Cutoff through the Cascade Mountains of Oregon. In Bill's world, the O&C owns the line and leases it to the SP. You will see mostly SP steam locomotives along with a few diesels. You will also see a few Spokane, Portland & Seattle locomotives, as the railroad has trackage rights on the O&C's line. Bill's feature is a bit different than our usual tours, as it is a work in progress and shares many behind-the-scenes building ideas. The feature includes photographs, an article (which tells the story of the freelanced railroad as well as building and wiring ideas), and video. Some of the video in the Premium Edition is 360 degree.
Build a Custom Pipe Load: Part 1
We show you how to make your own custom pipe load in a two-part project. Part 1 is in this February's magazine. The project is simple but a bit time consuming, which is why we have split it into two parts. You can build this load for a bulkhead flatcar. We built it for the car we upgraded and weathered in January.
HO Scale Columbia Gorge Lines

HO Scale Oregon & California Railway

See these Layouts in More Depth on Blu-ray & DVD
The video features these same two layouts with much more footage. The Columbia Gorge Lines portion features long trains on the 60x70 foot layout. The Oregon & California Railway portion shows the trains in action, as well as a behind-the scenes look at the layout under construction. The video is 121 minutes long.
Video orders will be processed and ship out within 10 days of ordering. All US orders include free shipping. International orders will be subject to shipping costs. Our Blu-ray & DVDs are region free and are in NTSC format.
Build a Custom Pipe Load: Part 1
Columbia Gorge Lines 360 View