April 2018 Trackside Model Railroading Digital Magazine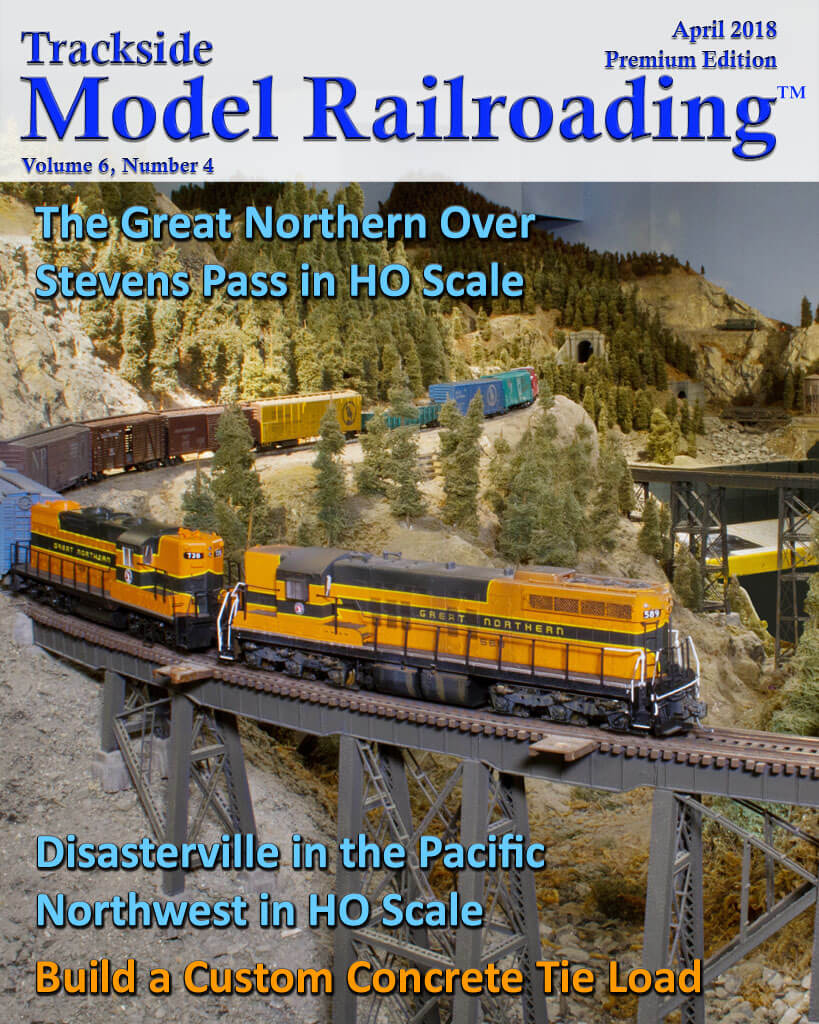 The two layout features this April are:
Great Northern Cascade Modelers
See the Great Northern's Gradual Progress Over Stevens Pass in Washington State in HO Scale
Disasterville
Dave Reagan and Chet Wachsmuth's HO Scale Freelanced Pacific Northwest Layout
No account, sign up here for our Free Edition and discounts.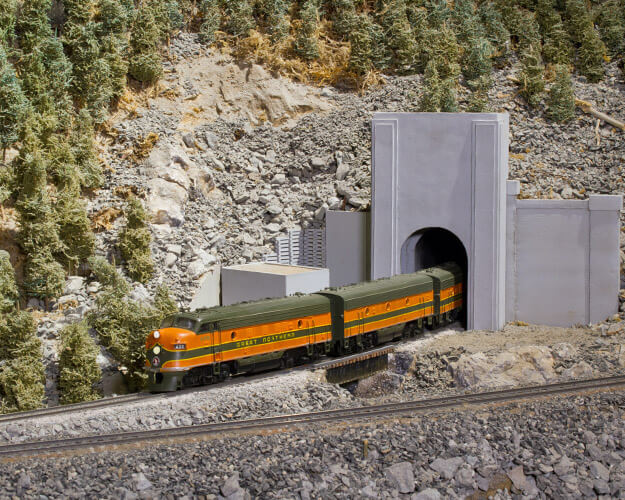 HO Scale Great Northern Cascade Modelers

HO Scale Disasterville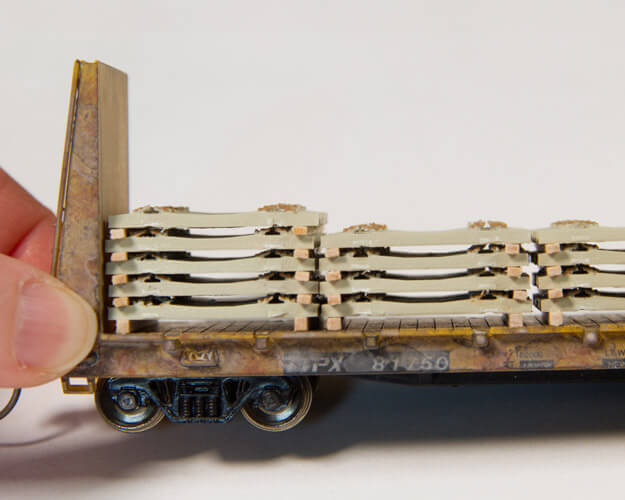 Modern Concrete Tie Load
Layouts in the April 2018 Issue
Great Northern Cascade Modelers in HO Scale
See the Great Northern Railway's efforts to cross Stevens Pass in the Cascade Mountains of Washington State. Our feature delves into the history of the railroad's gradual progress as it built switchbacks and two tunnels to cross the mountains. Depending on which route you travel to cross the pass, the layout models anywhere from 1900 to present day. Our feature includes mostly diesel locomotives, as that is what visitors will likely see during a visit to the Wenatchee Valley Museum and Cultural Center where it is located. Enjoy the photographs, local history of the GN and the story of the layout, and video of the layout. We include cab ride videos with this feature.
Disasterville in HO Scale
See the freelanced HO scale Disasterville show layout, featuring many interesting incidents and disasters on this detailed sectional layout. Dave Reagan and Chet Wachsmuth take the sectional layout to shows. They run a variety of western railroads on the layout, which is based in the Pacific Northwest in the 1980s and 1990s. You will see Burlington Northern, BNSF, Kansas City Southern, Amtrak, Union Pacific, and Montana Rail Link in action. We include photos of many of the detailed scenes and events, the story of the layout, and video (including a cab ride).
Build a Custom Concrete Tie Load
We build a modern load of concrete ties based on a photograph of a prototypical load we saw recently. The project is simple and anyone can complete it. You can also create just part of the load to use in a scene instead of making the whole load.
Great Northern Cascade Modelers

Disasterville Show Layout

Order the Blu-ray and DVD featuring these layouts in more depth.
The full movie features narrated video of both of these HO scale layouts. You'll see video of the trains in operation with the narrated story of the layouts. Both features include cab rides around the layouts. Run time: 83 Minutes.
Video orders will processed and shipped out within 10 days of ordering (excluding pre-orders). All US orders include free shipping. International orders will be subject to shipping costs. Our DVDs are region free and are in NTSC format.
Build a Custom Concrete Tie Load
Old Main Line View