November 2016 Trackside Model Railroading Digital Magazine
The two layout features this November are:
Sam Furukawa's
Sam Juan Scenic Line
Bill Wheeler's
Cascade Timber Railroad
S Scale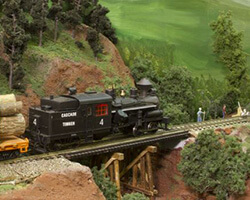 HO Scale

Build a Galvanized Pipe Load for Your Gondola and Flat Cars
Layouts in the November 2016 Issue
Sam Juan Scenic Line
We tour Sam Furukawa's version of the Rio Grande Southern this month. His layout models the RGS route from Ridgway in the north through Vance, Ophir, and south to Rico. Sam built the layout with the help of a few others and it is exquisitely scenicked. The layout is based in the 1940s. Sam runs mostly C and K Class locomotives on double-header trains. Sam's layout is a good example of a railfanning layout, and he designed it with areas where he can run trains just to watch them climb the grade of the San Juan Mountains.
Cascade Timber Railroad
Bill Wheeler models the freelanced Cascade Timber Railroad and the Fort Vancouver Terminal Railway in a southwestern Washington locale in the 1950s. He models the town of Shannon Port on the Columbia River and Bruce, Cascade Junction, and Eltopia. The railroad serves two logging camps as well as fruit growers and a variety of industries. Bill's layout is built for operations and has many switching opportunities.
Build a Galvanized Pipe Load for Your Gondola
We show you how to make galvanized pipes to build a custom load for an empty gondola car. This project is not difficult and is suitable for newer modelers. It is inexpensive and could easily be duplicated to create a work train on your layout.
S Scale Narrow Gauge Sam Juan Scenic Line

HO Scale Cascade Timber Railroad