September 2013 Trackside Model Railroading Digital Magazine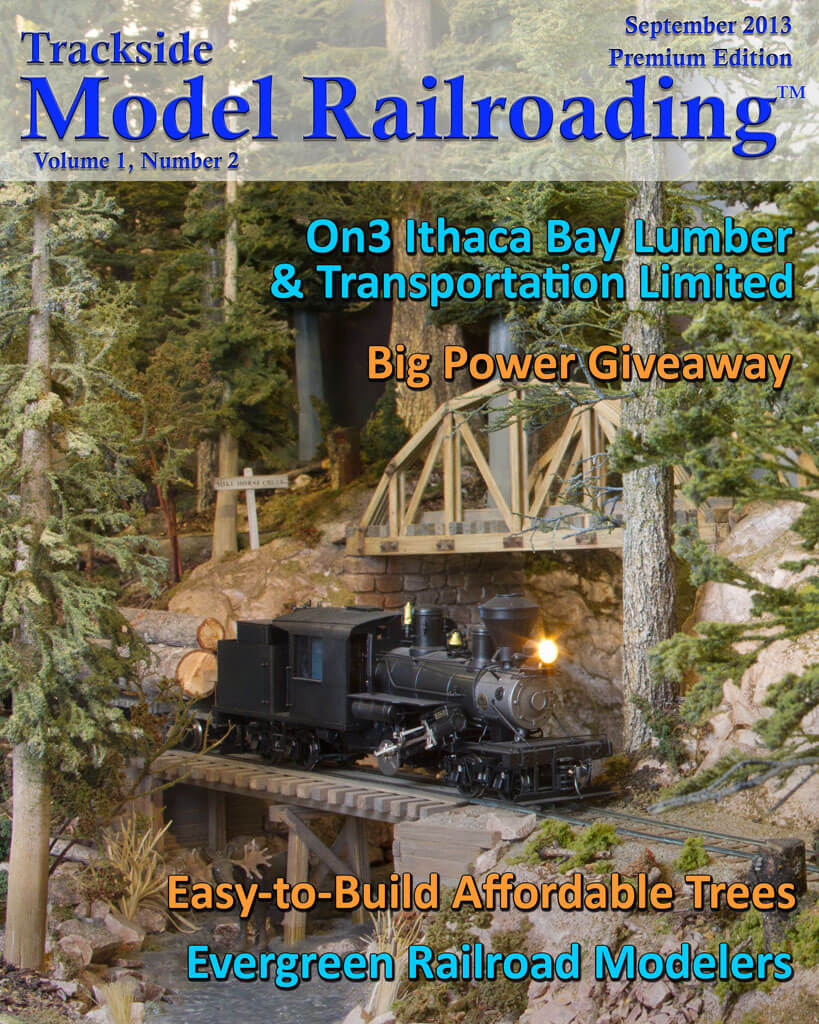 The two layout features this September are:
Stan Oxendahl's
Ithaca Bay Lumber & Transportation Ltd.
Evergreen Railroad Modelers Club
Evergreen Railroad Modelers
No account? Sign up here for our Free Edition and discounts. Trackside members can choose to add the 2013-2014 collection to their account.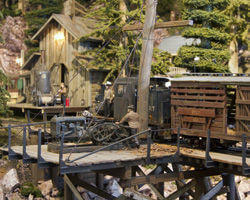 O Scale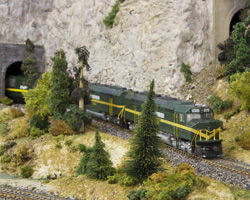 HO Scale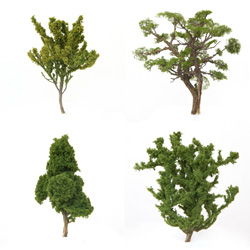 Build Trees from Sagebrush
Layouts in the September 2013 Issue
Ithaca Bay Lumber and Transportation Limited On3
We tour Stan Oxendahl's Ithaca Bay Lumber & Transportation Limited in this issue. The IBL&T is an On3 layout based in southwestern Canada from 1948-1952. Stan runs kitbashed Shay, Heisler, and Climax locomotives on the IBL&T and is an expert modeler. He scratch-built the structures and built his own Douglas-fir trees from resin.
Evergreen Railroad Modelers HO
We also tour the Evergreen Railroad Modelers club layout in this issue. This club layout runs both steam and diesel in HO scale on three mainlines set in the Pacific Northwest. The club's goal is to operate on a scenic and enjoyable layout that they can share with visitors. The layout includes the freelanced towns of Cobbleton and Old City and mining on Mount Whitney. It runs a variety of passenger and freight service and has its own Evergreen paint scheme in addition to running a variety of other locomotive power. Members are working on a new port district.
Build Trees from Sagebrush
Also in our September 2013 issue, step-by-step instructions show how to build trees using sagebrush. They are easy to build and inexpensive. We show how to create the trees using ground foam or foliage sheets, which result in a slightly different finished look. Either way will result in very affordable and realistic-looking trees. We show each step along with a photograph and two in-depth videos.
O Scale Ithaca Bay Lumber & Transportation Ltd.

HO Scale Evergreen Railroad Modelers