December 2013 Trackside Model Railroading Digital Magazine
The two layout features this December are:
Jerry Quinn's
Quinntopia
Olympic Model Railroad Society
Olympic Model Railroad
No account? Sign up here for our Free Edition and discounts. Trackside members can choose to add the 2013-2014 collection to their account.

N Scale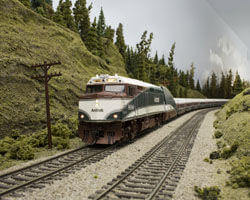 HO Scale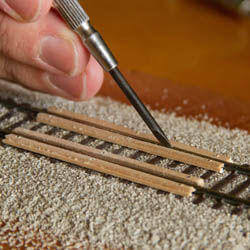 Build a Rural Grade Crossing
Layouts in the December 2013 Issue
Quinntopia N Scale Urban Layout
In this issue, we visit Jerry Quinn's N scale layout "Quinntopia." The fairly modern freelanced layout runs mostly European and Japanese trains in an urban setting with high-rises and lots of passenger service. Jerry's urban creation is quite unusual and interesting. Photos and video of the layout are included with the story.
Olympic Model Railroad Society HO Layout
The OMRS built an HO layout modelling the former Northern Pacific right-of-way in Tacoma, Washington. It is built on three levels and has over 5 scale miles of double mainline. The club runs a variety of power, including Amtrak, Great Northern, and Union Pacific. Photos and video are included in this feature.
Build a Rural Grade Crossing for Your Layout
Also in our December 2013 issue, step-by-step instructions show how to create a rural grade crossing for farm equipment. The wood and gravel crossing is perfect between two farm fields on any layout. We show you a photograph along with each step.
N Scale Quinntopia

HO Scale Olympic Model Railroad