September 2019 Issue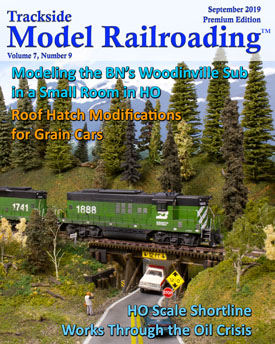 Digital Magazine Download
Get this issue without a membership account?
Click here.
Already a member? Log in below to add this to your account.

Be sure you are logged in before making digital purchases to ensure that your account is updated correctly.
Blu-ray/DVD Video Set
Order the Woodinville Subdivision and Wall to Wall Railroad on Blu-ray and DVD
The full movie features narrated video of both of these layouts. It includes railfanning video and a walkthrough at the layout with Brian Elchlepp about his Burlington Northern Woodinville Subdivision, discussing the prototypical branch line and how he modeled it. The Woodinville Sub includes a cab ride and a creative ridealong story as if you are on one of the BN's trains on the branch. The layout is based in the 80s. The full movie also includes railfanning video of Leo Wall's HO scale Wall to Wall Railroad, with the story of how the freelanced railroad was founded and how it diversified to make it through tough times in the fuel shortage. The layout is based in the 60s-70s.
Video orders will processed and shipped out within 10 days of ordering (excluding pre-orders). All US orders include free shipping. International orders will be subject to shipping costs. Our DVDs are region free and are in NTSC format.