October 2019 Issue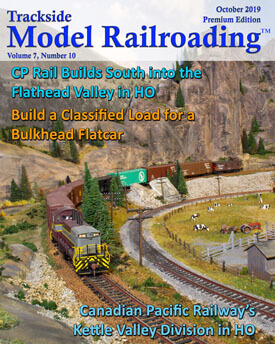 Digital Magazine Download
Get this issue without a membership account?
Click here.
Already a member? Log in below to add this to your account.

Be sure you are logged in before making digital purchases to ensure that your account is updated correctly.
Blu-ray/DVD Video Set
Order the Flathead Valley Branch of CP Rail and the Canadian Pacific's Kettle Valley Division on Blu-ray and DVD
The full movie features narrated video of both of these layouts. It includes railfanning video and a brief interview at the layout with Gerry Yurkoski. The Flathead Valley Branch includes railfanning video of the CP Rail and a cab ride on one of the trains on the branch. The layout is based in the fall of 1963. The full movie also includes railfanning video of the Canadian Pacific's Kettle Valley Division, with a partial history of how the KVR built the line and how the Canadian Pacific later utilized it in conjunction with its sternwheelers and tug boats. The layout was built by the Kettle Valley Model Railway Club and is located inside one of the former CP Rail sternwheelers, the S.S. Sicamous, in Penticton, B.C., Canada.
Video orders will processed and shipped out within 10 days of ordering (excluding pre-orders). All US orders include free shipping. International orders will be subject to shipping costs. Our DVDs are region free and are in NTSC format.