July 2019 Issue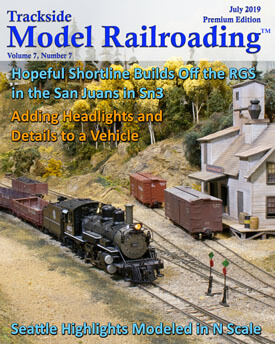 Digital Magazine Download $2.49
Credit Cards Accepted
Be sure you are logged in before making digital purchases to ensure that your account is updated correctly.
Blu-ray/DVD Video Set
Order the Washo & Wind Gapp Railroad and the Tribute to Seattle on Blu-ray and DVD
The full movie features narrated video of both of these layouts. You'll see more from Bruce about the Washo & Wind Gapp as he shares about the coke ovens he constructed and the mines and mill up in the San Juans. Railfanning-style video of the railroad at work shows the WWG working Washo, Wind Gapp, and up at the mines of Claxon Basin. Bruce also shares a bit more about his structures in a short bonus section.
You'll see more of Jet's interview and more of the layout itself, with the BNSF, Union Pacific, Eastside Freight Railroad, and Amtrak's Sounder all busily serving the city of Seattle. You will enjoy this unique, detail-packed N scale layout full of creativity.
Video orders will processed and shipped out within 10 days of ordering (excluding pre-orders). All US orders include free shipping. International orders will be subject to shipping costs. Our DVDs are region free and are in NTSC format.