Trackside Model Railroading™ Digital Magazine
Customer Login
Trackside Model Railroading
is the magazine for model railroad enthusiasts who want an in-depth view of layouts. We cover two layouts each month, including all fine scales. Our railfanning style includes video of the trains running on the layouts as well as an article and many photographs of each layout we share.
Preview April 2017 Free Edition: Click Here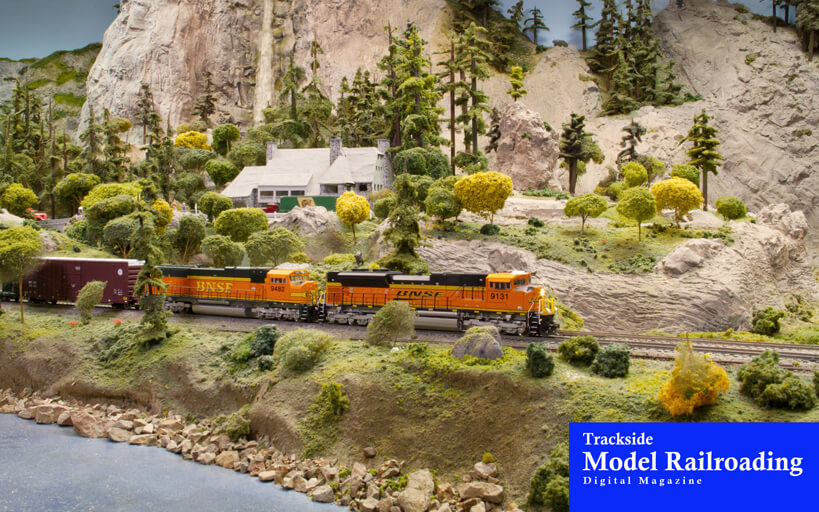 Trackside Model Railroading's Current Issue
Who's featured in this month's magazine:
Columbia Gorge Lines
Tour the Columbia Gorge Model Railroad Club's HO scale layout. The club is located in Portland, Oregon and models the Columbia River Gorge. The towns are based in the 1950s, but club members run a variety of power and most of the trains we share in this feature are modern. The Columbia Gorge Lines is a very large layout and we will share it in two parts. This feature includes an article about the club, photographs, and video of the trains. We also share a few behind-the-scenes images of the club. You can visit this layout in downtown Portland if you are interested.
Tillamook, Bay City & Garibaldi Railroad
Also see Jay Becker's freelanced switching layout in our April issue. The HO scale Tillamook, Bay City & Garibaldi Railroad is located in Tillamook, Oregon and is designed for operations. Jay includes a barge, the large Tillamook Paper Company, and dozens of other industries on the layout to give plenty of variety for operators. He has custom-built some of his power and structures on the TBC&G, which is based from 1995 to present day. Photographs and video are included of the layout along with an article detailing his operating procedures. Both features this month include maps.
The magazine that railfans the model railroad layouts of the masters, Trackside Model Railroading.
What is TSMRR?


Trackside Model Railroading is a digital model railroad magazine, published monthly. Each month on the first, subscribers will get access to download the new magazine. All subscribers will get the Free Edition and paid users will get access to the Premium Editions that they have bought.
Premium users get the choice to download all three versions of the magazine in a zipped file that is intended for desktop computers. The Zip file also includes two images that can be used for your computer desktop. We provide smaller versions of the magazine formatted for tablets and smart phones. The Mobile version is great if you are on a mobile data plan and need to conserve data. We recommend mobile users download the zip file from a local hot spot and store it on an storage device for long term access.
Each magazine includes two layouts which we have visited and photographed extensively. There are about 25-40 images per layout in the magazine, so you get to see many different scenes. You can zoom in on a picture if you wish. We want readers to feel that they have experienced a thorough tour of each layout.
Accompanying the photographs is an article about each layout and its owner. Whenever possible, we also include high definition video of the trains running on the layout. Actual prototypical railroad sounds are dubbed into the video of the models, giving the realism that you are actually railfanning the layout. Video links are inside the magazine when using Adobe's Acrobat Reader, videos are also found on the main download page of each magazine. As you read a layout article, you will come across a video capture image. Just click on the picture and the video will launch. This does, however, require that you have an internet connection, as the videos are in HD and would be too large to embed in the magazine.
Each month includes an article instructing the reader how to build or design something relating to modeling. Sometimes these are very specific, and sometimes they are more conceptual in nature. Now and then, we include extra content like large panoramic images within the magazine that you can download and have printed to use as a backdrop on your layout.
You can re-access the magazines as many times as you like, and it is fine to download them on your desktop computer as well as a tablet or smartphone if you wish. You can purchase a month here and there for $2.49 or purchase a full year subscription, making each month of the magazine just $1.25 per issue.If you have any other questions, please feel free to contact using our Contact Page.